Archive for February, 2014
See on Scoop.it – Innovative Technologies for Libraries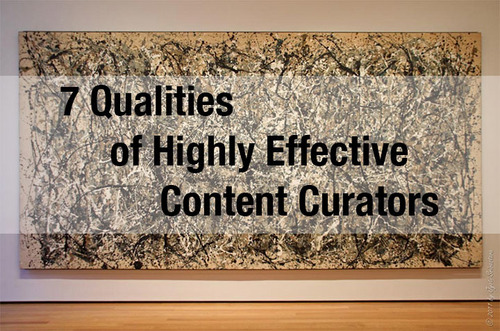 Excerpt from article written by Dennis Shiao and published on Scoop.it Blog:
"Every time I visit the Museum of Modern Art (MoMA) in New York City, I see something I've never seen before.
Wouldn't it be great if our content collections drew as much interest, respect and admiration as the collections at MoMA? In order to achieve this feat, we need to become highly effective content curators.
Let's consider seven habits:
1. Focus on Goals
What are your goals around content curation? If you can't answer that question, stop right now. Stop reading this post, too. Go answer the question, then return when you're done.
2. Have Empathy
You'll need to have empathy for your target audience. In other words, the better you understand their thoughts, interests and challenges, the more effective you'll be at content curation.
3. Be Careful, Cautious and Selective
Make sure you read (and digest) every piece of content you curate. Curate high quality content only, leaving the marginal pieces to the proverbial cutting room floor.
4. Editorialize
Don't just share content, tell us why you like (or dislike) the piece. What can your target audience learn from reading it and what are the key takeaways? In a sense, editorializing creates a nice blend of creation and curation.
5. Provide Attribution
Providing attribution shows respect and helps drive visibility and awareness to content authors. As you curate, look up the author of the article (or blog post) and explicitly acknowledge them.
6. Understand What's Timely and Trending
Sharing fresh milk is good. Sharing spoiled milk is rotten.
If you find content that is time sensitive, consider whether the "sharing window" has already passed.
7. Have an Eye for a Great Title
Not everyone will be as thorough as you when reviewing content. A lot of people will click on a link solely because of a compelling title. As you sharpen your curating skills, you'll begin to figure out what separates great titles from good titles. If you come across a great article that has just a good title, consider changing the title text when you curate…"
Read full original article here:
http://blog.scoop.it/2014/02/13/7-qualities-of-highly-effective-content-curators/
See on blog.scoop.it
Read Full Post
|
Make a Comment
(
None so far
)